Our
Proven Method.
Created by
Top Captains.
Delivered to
You.
Confident Captain Courses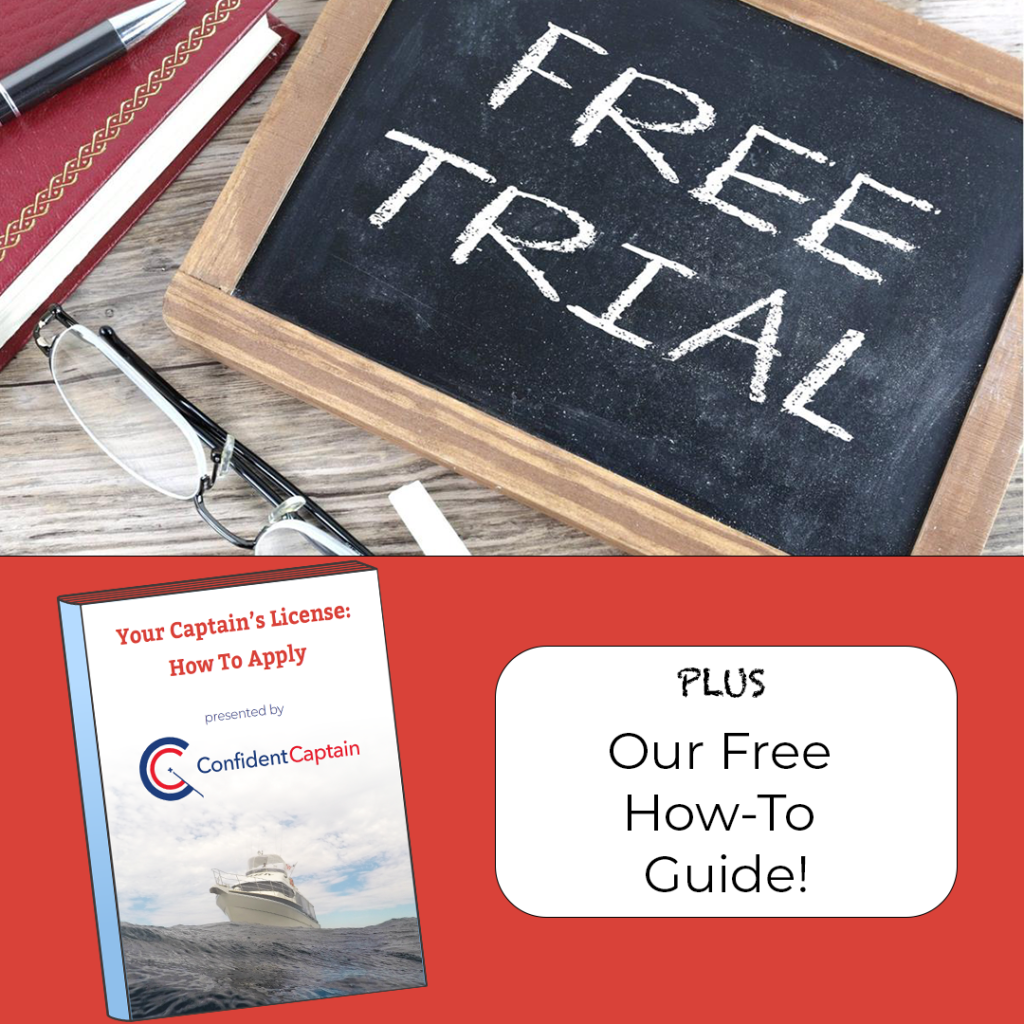 Free Online Course Trial
+ Free Guide on Applying for Your Captain's License
Want to take our Online Course for a test drive?
We're offering free, 7-day trials of either our Masters or OUPV Course.
You'll also receive our complimentary and comprehensive guide on applying for your Captain's License - made easy! Sign up below to start.
USCG Exams & Exam Prep Tutoring Sessions
Creating a Nation of Confident Captains
We founded Confident Captain to support and build our own community of mariners who understand that though the license may feel small, the job they do everyday is big. We aim to create a nation of confident captains who are trained and prepared to take care of their passengers, earn a good living, and fulfill their calling through our USCG certified courses, training, and license application assistance. Whether you want to operate a high-speed ferry, a private yacht, or a six-passenger charter boat, we'll give you the tools you need to take the helm with confidence.

For Captains. By Captains
Included in Membership:
Free Captain's Course

Sea Time Tracker

Advocacy

Job Board

So much more!
The Confident Captain Difference
A CLEAR PATH TO ACHIEVING YOUR USCG CAPTAIN'S LICENSE
Confident Captain offers dynamic online that allow mariners to earn licenses and certification for operating vessels up to 100 tons. Learn and study on your time, then train and complete the Coast Guard exam with us.
A VARIETY OF COURSE OFFERINGS FOR YOUR STYLE AND SCHEDULE
Not all learners absorb knowledge the same way, and busy on and offshore schedules can make it hard to find dedicated time for a program. Confident Captain offers fully online with supported tutoring make sure that each of our students is getting the most out of the program.
NAVIGATING THE COURSE TO ACHIEVING YOUR GOALS
ANDERSON REGGIO, Professional sailor/navigator
I would never have felt appropriately prepared to take my yacht master practical examination if not for Kent and his team. Peter's tutelage opened my eyes to areas that I hadn't previously considered nor explored. I would not have been nearly as successful without his guidance and Kent's encouragement to pursue this through Confident Captain.
"You hope you never have to use these skills."
Participant, STCW
It was a once in a lifetime experience that you hope you never have to experience at sea. The instructors were amazing and made sure you knew the content before you left the classroom each day.
"Helped me through every step of the way."
Sara Hastreiter, Volvo Ocean Race sailor
The legendary Kent of Confident Captain/Ocean Pros helped me every step of the way with helping me obtain my Yachtmaster ticket. With nothing to gain as I was doing the courses in England, he helped me as I blindly navigated ticketing off one requirement at a time, what and how to study based on my experience, and cheering me on along the way. Thank you for guiding me through!
Sign up to receive all the latest information, courses and deals from Confident Captain.
Questions? Contact us for more information!
344 Aquidneck Avenue Middletown, RI 02840